Remembering Shakuntala Tai Nafde

---
Mrs. Shakuntala Nafde, loving called `Tai' went to Beloved Baba on 13 March 2009 at 6.50 PM. She was 82. Avatar Meher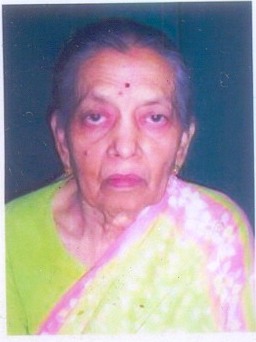 Baba had said that God cannot be understood, discussed and explained. God can only be lived. Living the God should be the goal of our lives. Shakuntala Tai Nafde lived God by living Meher Baba's Wish for His lovers.
It was the year of 1950 when Shakuntala Tai's great destiny made her have Beloved Baba's darshan. Since then she, along with her devout Baba lover husband Sri Damodar Yashwant Nafde who was loving called `Bhau', never missed a Baba Sahvas program. Both of them were specially loved by Beloved Baba and respected by Baba lovers. She was always a 'not-so-visible' presence in Baba programs organized by Hamirpur, Andhra and other Baba centers in the country. 'Not-so-visible' because she would take charge of the kitchen there and will get busy serving Baba lovers. Exuding love and care, Tai Nafde would touch their hearts with her selfless service. It was fifty years ago – in the year 1959 – Bhau Nafde started Avatar Meher Baba Center in Bhopal. Shakuntala Tai helped her husband in organizing various activities of the center. The Center participated in the two great Kumbha Melas and disseminated Beloved Baba's message of Love and Truth there. A Kumbha Mela or festival is a mega congregation of lovers of God – saints, religious heads, devout men and women – who gather in enormous numbers, running in millions, along the bank of a holy river selected for the purpose. Shakuntala Tai took the charge of kitchen run by the Center, feeding those who visited the Center's stall over there. Shakuntala Tai's surrender at the feet of her Beloved Meher Baba was unconditional and complete.
Last moments of her life deserve special mention. Having fallen seriously sick she was shifted to a hospital. She had become quite feeble and could speak with great difficulty. Most of the time, she kept on gazing at the ceiling of the hospital room. She would sometime murmur about Baba's Guru Prasad Sahvas programs in Pune. On 13 March around 6.40 PM she appeared to be deeply absorbed and silent. Her family members wanted her to remember Beloved Baba and Baba's Name in her last moments. Her son tried to focus her attention on a picture of Beloved Baba. She did not respond. Her grand-daughter then tried to show her a Baba picture on her cell phone. She amazed everybody there when she pushed aside the cell phone and said loudly in a steady voice, "Why are you all sitting? Stand up. See Meher Baba has come. He is amidst us now. Get up everybody." She then breathed her last and left the body.
Narrating all this one is reminded of Beloved Baba's Wish wherein He has said: "I say with my Divine Authority to each and all that whosoever take my name at the time of breathing his last comes to me: so do not forget to remember me in your last moments." But for Shakuntala Tai, Meher Baba came Himself to hold her hand and escort her beyond.
Avatar Meher Baba Ki Jai !