Remembering Sri T.R. Shambhulingam

---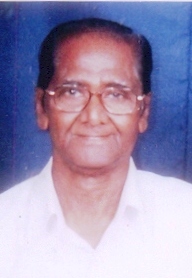 The day was 18 January 2007. Sri T.R. Shambulingam, Secretary, Avatar Meher Baba Center, Bhopal, met with a road accident and died at 10.20 A.M. Kiran Nafde of Bhopal Center informed the Meherazad-Meherabad mandali telegraphically, on the same day, about the sad incident. Mandali's message from Meherazad said: "Sri Lingam was a senior Baba lover and Beloved Baba has called him back near Him, kissed him, and now sent him back for His work."

Born on 16 March 1931 in Aurangabad (MS), Sri Shambhulingam first heard about Meher Baba during the course of his college studies. Later he got a government job in Madhya Pradesh. It was in Jabalpur, Sri Shambhulingam came in close contact of Prof. Amiya K. Hazra, a devout Baba lover. Prof. Hazra's contact lighted the heart of Sri Shambhulingam with the fire of Beloved Baba's love. He had Beloved's first darshan in 1958 in Pune and then later 6-7 times. He stayed for seven days in Meherabad in 1969 to have the last darshan of his divine Beloved. It was through Prof. Hazra that Sri Shambhulingam came to know about Sri Damodar Yashwant Nafde of Bhopal. Sri D.Y.Nafde's dedication and surrender to Beloved Meher Baba made a deep and lasting impact on Sri Shambhulingam.

Burning in Beloved Baba's Love, Sri Shambhulingam was possessed by the desire to start a Meher Baba Center in Bhopal. He wrote about this to Beloved Baba seeking His permission for this. On getting Beloved Baba's approval, Sri Shambhulingam, along with Sri Dattatraya Yashwant Nafde, then started Avatar Meher Baba's Bhopal Center in the year 1959. In Guru Prasad, Pune, Beloved Baba conveyed through hand gestures: `Lingam you are the Secretary of Bhopal Center. Do not worry at all.' And, Sri Shambhulingam took up the assignment and selflessly served the Center from 1959 until he breathed his last. Proficient in Hindi, Urdu and English languages, Sri Shambhulingam translated in Hindi many books by and on Meher Baba and important articles as well. Some of his significant Hindi translations are: Sarod-E-Javidan (Urdu) by Sahib Asmi, Hosh Madhosh (Urdu) by Abdul Ghani, Insan-E-Kamil (Urdu) by Abdul Ghani, Treasures from Meher Baba Journals (English), What I am Doing Here (English) by Ivy Duce, Spiritual Tales of Meher Baba (English), Twenty years with Meher Baba (English) by Abdul Ghani, Conversations with Meher Baba (English), Meher Baba's Last Sahvas by Dr. H.P.Bharucha, The Turning of the Key (English) by Bill Le Page, and the various articles on Meher Baba by Prof. J.S.Rathore appearing in the Glow International. Over the years some of these translations were serialized in Meher Pukar, a journal in Hindi devoted to Meher Baba, published from Meher Puri, Hamirpur, India.

Sri Shambhuligam was truly a nobel soul who always carried Meher Baba's in his heart and his name on his lips. He was blessed living a exemplary life full of dedication, humility and love for his beloved Meher Baba.




Avatar Meher Baba Ki Jai !